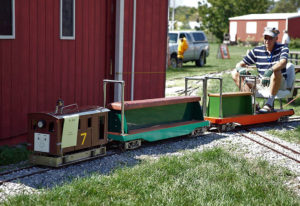 "Toby-the Steam-Tram" battery electric locomotive, full riding car and combine passenger/engineer car in 7 1/4" gauge.
Equipped with the latest in battery charger technology (in-built to the loco) for longest dual lead acid battery life.
Speed/direction controls are remote to the loco on the passenger/engineer car.
Provided with three ~2-ft high dollies with casters for garage storage and two car/truck rail platforms for transport purposes.
Very good condition. Very little use. Excellent performer even with full passenger load. MRC sound system and amplifier installed.
All fittings are polished marine grade stainless steel. Independent white head and red flashing tail lights complete the package.
Asking: $8,000 Cdn.
Contact: Ron Watt
Hamilton, Ontario
GHLS member
905-679-5819
wattronix@hotmail.com