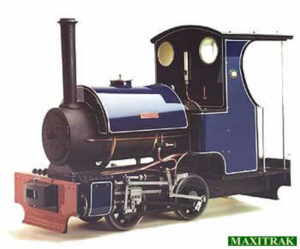 Locomotive:
4 ¾" Gauge Sapphire 0-4-0 saddle tank live steam locomotive
Background:
The kit was manufactured by Maxitrack, a respected provider of locomotive kits in the U.K. The kit was made available in 4 parts.  Offered here are only the first two parts. The remaining 2 parts would have included the boiler, water tank, cab bodywork and all cab fittings.
If everything that is on offer here was assembled, you would have a rolling chassis that could be run on air by connecting an airline connected to main steam pipe.
Details:
coal fired freelance design based on a British narrow-gauge industrial prototypes made by Bagnall's
Parts Included and Construction Details:
frame is a one piece aluminium casting
frame arrived with wheels-axles quartered and mounted on frame with coupling rods mounted and connecting rods mounted at big ends
cylinders, cylinder covers and steam chests made of gunmetal bronze
pistons are bronze with PTFE rings backed with graphited string
bronze slide valves
wheels are spoked (an optional extra, standard is plain disc)
Hackworth valve gear (an optional extra, standard is slip eccentric)
main steam pipe is external from turret in cab (this done to make design simlper and cheaper and construction easier for novices)
hand brake (an optional extra)
all screws, nuts bolts etc included (a mixture of metric and BA) only missing but needed item is a small bottle of high strength Loctite
only tools required are hand drill, screw drivers and wrenches with small amount of "tweeking" in the form of filing etc required according to manufacturer
Parts not included as they are in the last two kit sections
stainless steel saddle tank
cross head and hand pumps for boiler feed as standard
injector available as an option, feeding via a backhead mounted check valve
all copper boiler
displacement lubricator is standard with a mechanical lubricator as an option
brass chimney top available as an option.
weight in working order is about 60 lbs
according to manufacturer, loco will pull 6 adults on level track
minimum radius curve is 8 feet
The locomotive can still be order by special order from MaxiTrak
Price: $1,200 (Original cost in 1996 – $3,750 – Invoices on request)
Location: St Catharines, Ontario
Contact: Paul at (705) 474-9815 or by e-mail at bravo.20@sympatico.ca